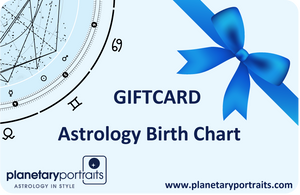 e-Gift Card from PlanetaryPortraits.com
Regular price $35.00 Sale
The ultimate outside-of-the-box, personalized gift idea! For dabblers, enthusiasts and everyone who appreciates creative surprises. 
Perfect for:
Birthdays
Baby Showers
Newborn gifts
Holidays
Allow your gift recipient to get his/her full birth horoscope report and to choose a birth chart according to his or her personal style preferences.
Great for occasions when times, dates and names are unknown or uncertain. For example, a gift card given at a baby shower can be used once the name, birthday and birth time become known.
e-Gift cards have a branded design that will get your recipient excited.
e-gift cards arrive immediately to your email address complete with the card value and redemption instructions. Simply print at home to be included in a greeting card, or forward in an email directly to your gift recipient.  
Learn more about gift cards in our FAQ...